One of the privileges of travelling and attending global conferences is meeting incredible people. 
An American ex-special forces guy led by his convictions - is one of these incredible people. 
Let's call him John. John lives with his family (his gorgeous wife and three girls) in the dangerous hill tribes of Myanmar - it is dangerous, because civil war has been raging in Myanmar for decades - fuelled by ethnic, racial and religious tensions. 
The military rule in Myanmar is cruel and unrelenting, and many minority groups fall victim to military aggression and ethnic cleansing - and often end up on the border of Thailand. 
This is where I will be headed next month. 
John's organisation - the Free Burma Rangers - have reported recently that the Burma Army is currently engaged in an escalating conflict in both northern Shan and Kachin states.
The situation has left several dead, including a 22-year-old man killed by a landmine, and others injured, such as a 39-year-old mother wounded by shrapnel and incapacitated. Burma Army soldiers also gunned down a 21-year-old student at a checkpoint.
At the present moment there are three major separate but connected conflicts in existence in northern Burma: the Burma Army against the Kachin Independence Army (KIA), against the SSPP, and against the Ta'ang National Liberation Army (TNLA). 
The Free Burma Rangers (FBR) are a multi-ethnic humanitarian service group. They provide practical assistance, strategic leadership, and support for the local persecuted and targeted minorities. 
The most important thing that FBR does, is it gives an accurate, timely, non-biased report of the humanitarian concerns on the ground. 
Their most recent report provides vivid detail of various human rights abuses: 
"Human Rights Report: Violence, Arrests, and Torture
The security situation in northern Burma remains fragile as Indiscriminate torture, beatings, and killings continue to persist in both Kachin and Shan state(s).
Human Rights Report: Destruction and Unlawful Seizure of Property
There has also been widespread destruction of property, arbitrary searches and seizure's, extortion by members of the military, immigration, and local police forces.
Military Situation in Northern Shan State
During May, the Burma Army and the Border Guard Force reinforced their positions in Mamma Village, an area south of Lashio, with an increased number of troops and new equipment such as Mi-35 helicopters.
Airstrikes in Kachin State
Airstrikes continue to be used in northern Shan State. The targets of these strikes do not tend to be military in nature, but rather hideouts for the internally displaced (IDPS), or economic targets such as logging sites or equipment. The Burma Army is using both jet fighters and Mi-35 helicopters in these strikes.
Landmine Situation
The ongoing laying and remote detonation of landmines continues to be a recurring issue in northern Burma. While many of the casualties are soldiers, civilians remain at high risk."
Human Trafficking in the Region: 
There are 30,435,300 estimate number enslaved in the Asia-Pacific Region, which equates to 66.4% proportion of the global number. 
There are 425,500 people ESTIMATED LIVING IN MODERN SLAVERY in Thailand. 
The Asia-Pacific is the most populous region of the world. It spans Afghanistan in the west, to New Zealand in the south-east, to Mongolia in the north. Two thirds of the estimated 45.8 million people in modern slavery were identified in the Asia-Pacific. All forms of modern slavery were identified including forced labour in brick kilns, agriculture and the garment sector,[1] child soldiers in Afghanistan,[2] India[3] and Thailand,[4] forced begging, and commercial sexual exploitation. Men and women experienced forced labour in manufacturing, agriculture, food production and construction. Women were also vulnerable to sexual exploitation, forced marriage and domestic servitude.
The high prevalence of modern slavery in the region reflects the reality that many countries in Asia provide low-skilled labour for the production stage of global supply chains for various industries including food production, garments and technology.
Human Trafficking of Burmese minorities 
According to the United Nations Inter-Agency Project on Human Trafficking, Myanmar is a source country for women, children, and men trafficked for the purposes of forced labour and commercial sexual exploitation.
Myanmar people are trafficked to Thailand, China, Malaysia, South Korea, and Macau for sexual exploitation, domestic servitude, and forced labour; some Myanmar migrants end up in situations of forced or bonded labour or forced prostitution.
Myanmar children are particularly vulnerable to unlawfully working internally, as well as being trafficked into Thailand as forced street hawkers and beggars, or to work in shops, agriculture, and small-scale industries.
Myanmar is also a transit country for trafficking of Bangladeshis to Malaysia and Chinese to Thailand.
In Myanmar, trafficking takes place within the context of large-scale migration, both internal and cross-border migration.
Some research suggests that as many as one-third of Myanmar's population have migrated between urban and rural areas within their lifetime, with Thailand being the main destination country.
Though the migration figures differ, one mid-point estimate suggests that out of one million illegal immigrants in Thailand, 75% are from Myanmar .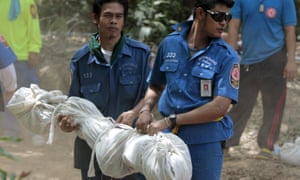 Human Trafficking through Mae Sot
Many of the targeted vulnerable minorities from Myanmar end up on the Thai/Burma border in a place called Mae Sot. 
I will be heading to Mae Sot - which is in Thailand - next month to teach legal studies to College Students who are based in the middle of the refugee camp there. 
Serious human rights abuses have been reported here and in the province, whereby local businesses and mafia have been implicated in trafficking Burmese for slave labor.
According to Thai Freedom, human trafficking in Mae Sot is worsening - and getting out of control. 
Other reporters are stating that Thailand is losing their battle on human trafficking: "Thailand is known worldwide as a hotbed for modern slavery, something the Thai government has vowed to fix. But the situation is not getting any better. And in fact, it's getting worse.
Thailand is home to a massive number of migrant workers, and the more than 1 million workers from neighboring Myanmar make up the majority. Migrant workers are often from poor rural areas, and desperately want to escape their bleak economic conditions and make a better life across the border.
Many link up with recruiters in border areas on promises of a good job with a decent wage, only to be sold into slavery in seafood processing plants or fishing boats in Thailand.
Despite a few crackdowns, Thailand has made no real progress in the fight against human trafficking. That's because neither side of the political isle has addressed the main barrier that inhibits efforts to end the problem: corruption.
Thailand is affected by widespread corruption on both sides of the political isle.
It was reported by the Guardian last year that: Thailand's state prosecutors pressed charges against more than 100 people, including an army general, in a multinational human trafficking scandal that came to light after dozens of bodies were discovered in the south of the country earlier this year.
The sweeping investigation, in which 15 Thai state officials were implicated, began after 36 bodies, believed to be those of migrants from Burma and Bangladesh, were exhumed from abandoned jungle camps near the Thai-Malay border in May.
Ninety-one Thais, nine Burmese nationals and four Bangladeshis face 16 charges, including human trafficking, partaking in a transnational crime network, and assisting or bringing aliens into the kingdom illegally.
Maj. Gen. Paween Pongsirin, a senior Thai police officer whose investigation into modern slavery led to 150 arrest warrants for individuals allegedly connected to human trafficking, including a lutenant in the Thai Army, reported The New York Times.
The Environmental Justice Foundation identified Mae Sot as a serious thoroughfare for trafficked persons in South East Asia, and makes some sensible recommendations in case matting labor trafficking in the region in their: Sold to the Sea - Human Trafficking in Thailand's Fishing Industry Report. 
This Strategic Information Response Network Country Information Sheet for Myanmar and Thailand shows the trafficking routes through Burma, Thailand, China and othe neighbouring borders, and explains the local anti-trafficking laws. 
This World Vision Report on Human Trafficking in the Greater Mekong Sub- Region focuses on the specific vulnerabilities of the migrant population in the region. 
The International Labor Organisation also focuses heavily on the Greater Mekong Sub-Region as a target to combat demand for labor trafficking - emphasised in their 2005 Report. 
I have been to Thailand many times - to build relationships with NGOs, to conduct legal research on human trafficking
I will head out to Thailand next month with renewed zeal to further my research into human trafficking in our region for my PhD. 
I am hoping to capture stories, case studies, legal cases and get a first hand insight into the situation in Mae Sot, while resourcing and empowering Thai nationals with international human rights legal training standards that they can then push to implement into their own nation. 
I will be travelling this trip from my own resources, and providing training that I have developed. 
I understand that the College has hardly any resources, especially text books, and are particularly lacking in legal texts. 
How you can help
If you feel so led, please donate to the good work of the Free Burma Rangers through their website: www.freeburmarangers.org 
Their humanitarian work is invaluable to so many targeted vulnerable persecuted minorities in Burma and beyond.  
Secondly, if you have unused law text books, books on legal studies, the rule of law, human rights, theology or justice, please do post your donated books/texts that the College desperately needs to: 
KKBBS Care Of: Andrea Tokaji 
Po Box 11 Mae Sot, 
Tak 63110, 
Thailand
Many thanks for your invaluable partnership and support. 
Do you like this post?